About Southern Cape Ryukyu Kobudo
The Western Cape Ryukyu Kobudo Shibu is located in George, situated in the Garden Route area of the Western Cape province of South Africa, and is headed by Jannie le Grange assisted by his wife Betsie and eldest son Rocher...
Jannie Sensei started Kobudo in 1973 under the leadership of Denis st John Thompson Sensei in Cape Town. The Kobudo system was mainly based on the Matayoshi system. Since then he practiced Kobudo for his own development and enjoyment, while most of his time and effort was spent in training, teaching and expanding Goju Ryu Karate in the Southern Cape area.

Garden Route - George
In 1998 he received a visit from an old friend Hennie de Vries who had just returned from Okinawa after an 18 month stay, practicing both Goju Ryu and Ryukyu kobudo under Grand Master, Ko Uehara. Since then Jannie Sensei developed a keen interest in RyuKyu Kobudo and was soon training with Hennie Sensei in Namibia before he immigrated to Australia...
During 2003 he visited the Ko Uehara dojo in Okinawa, to further his knowledge in Ryukyu Kobudo. Always keeping in touch with his previous instructor, Sensei Hennie de Vries, he then decided to visit Australia. Together with his wife Betsie they set off to Melbourne for a three week intensive training program.
Jannie and Betsie le Grange with Hennie de Vries Sensei . George 2006
Finally in 2006 he made contact with Sensei's Emile and Penny van Heerden in Okinawa, both senior students at the Ryukyu Hozon Shinko Kai headed by Kancho Hiroshi Akemine.
During mid 2007 the Hozon sent an instructors team, headed by Yukio Kiniyoshi, to South Africa. Jannie and Betsie attended the one week Gashuku where they also met and became friends with Emile and Penny van Heerden as well as Tim Jurgens (USA) and Effi Schleyen (Israel). Later that year the Hozon sent Fumiya Matayoshi to South Africa for a three month stay to teach in Gauteng and the Southern Cape.
Under the Supervision of Sensei Emile van Heerden Jannie and Betsie once again set off to Okinawa in 2008 for a one month stay and training kobudo at the Hozon Shinko Kai. Jannie also took part in the World Ryukyu Kobudo tournament hosted at the well known Budo Kan in Naha city.
The following year during November 2009 sensei Jannie , accompanied by his son, Rocher, were invited by the Okinawa Goju Ryu Kyokai (OGKK) for training at the Kikugawa dojo in Yonabaru near Naha city and evaluation at the dojo of Yoshio Hichiya Sensei ( 10 th dan ) in the well known Shuri district near the historical Shuri castle. The last five days of their tour was spent at the Ryukyu Kobudo dojo of Hiroshi Akamine Sensei in the southern part of the Island.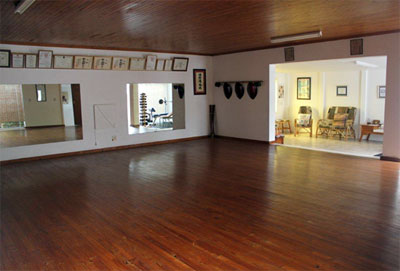 Honbu Dojo George Town (since 1981)
During 2011 sensei's Jannie and Stephan Coetzee (Gauteng) set off to Okinawa for a two week stay at the new Honbu dojo of Hiroshi Akemine sensei in Nesabu, Tomigusuku-Shi. After intensive training and grading they were awarded Shibu status for their dojo's.
Emile van Heerden, Jannie le Grange, Stephan Coetzee, Hiroshi Akemine(Soke), Chinen Masatoshi and Fumiya Matayoshi. Okinawa 2011
At present sensei's Jannie,Betsie and Rochèr le Grange are practicing and teaching Ryukyu Kobudo and Goju Ryu Karate at their home dojo in George Town, surrounded by the scenic Garden Route area of South Africa.