About Southern Cape Goju Karate
Jannie le Grange the pioneer of Goju Ryu Karate in the Southern Cape.
During the summer of 1981 Jannie le Grange and his wife, Betsie and two year old son Rochèr, moved to George from Cape Town .He then held an Nidan grading and was an active member of the South Africa Goju Ryu Karate Association. Two years later he took over the local Karate do club, that was founded by sensei Rob Wiese during the 70's, and directed the school in a more traditional path with affiliation to Okinawa Japan. As pioneer of Tradition Goju Ryu Karate more Goju Ryu Clubs were opened in the area under his technical guidance and leadership. Students and instructors that assisted him in the great task of founding Goju Ryu clubs were sensei Pierre Coetzee ~ Oudtshoorn, sensei Fanie Dippenaar ~ Knysna, sensei Henry Deal and Nick Gelderbloem ~ Pacaltsdorp, sensei Gert Burger ~ Hartenbos and sensei Andre van Vuuren ~ Mosselbay.
Founder club members in the Southern Cape area of South Africa
Front Row: Nick Gelderbloem, Jannie le Grange, Gert Burger, Henry Deal.
Back row: Andre van Vuuren, Partick Kalis(took over from the deceased, Pierre Coetzee ~ 1949 to 1994)Fanie Dippenaar, Angelo Prins and Betsie le Grange. Photo 1995
At present the George dojo serves as Honbu dojo for the Southern Cape Area with affiliation to the South African Goju Ryu Kyokai, Shibu dojo of the Kattan sensei's in Durbanville Cape Town.
He is assisted by his wife Sensei Betsie ( 5 th Dan OGKK), his son Rochèr ( 4 th dan OGKK) and Angelo Prins ( 5 th dan OGKK). As well as the Southern Cape Kumbukai members sensei's Deon Nel ( Yondan), Dr Norman Reinach, Amanda Rosser and Denise Richardt and Buks Smit (Yondan)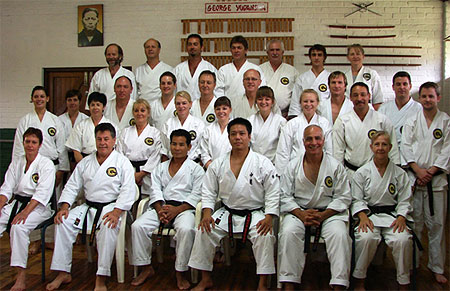 Sensei Kikugawa Masanari visit to the Southern Cape ~ 2008
---
Training History of Jannie le Grange ~ CV
1969 - Started Karate in Cape Town with Karate Do headed by Hugh St John Thompson.
1973 - Graded to Shodan (1st dan) by Hugh St John Thompson.
1973 – Started Kobudo Training under Denis st John Thompson.
1973 - 1975 Member of the WP all style Karate squad.
1975 - Joined the South African Goju Ryu Karate Ass, headed by James Rossauw.
1975 – Attended two week Gashuku with Sensei Morio Higaonna, Terio Chinen and Japanese team members at the Walkerville farm of Sensei James Rousseau.
1975 - Opening of my First Goju Ryu dojo in the Rietvlei Centre, Milnerton, Cape Town.
1976 - Member of the Western Province Goju Ryu team against Japan and England.
1978 – Graded to Nidan (2 nd dan)
- Member of the Western Province Goju team against USA. Attend a one week Gashuku with
1980 - Moved to George in the Southern Cape area.
1981 - Took over the George Karate- Do club from Sensei Rob Wiese
- Member and Captain of the South Western Districts Karate team.
1982 - Graded to Sandan (3 rd Dan) by Hugh St John Thompson.
1983 - Member of a South African Karate Do Springbok team to tour Israel, Switzerland and England.
1986 - Attend Kobudo Seminars in Urdorf, Switzerland.
– Graded to Yondan by Hugh st John Thompson.
1987 - Attend a Gashuku conducted by Sensei Morio Higaona in Stellenbosch.
1988 - Graded to Sandan by Sensei Bakkies Laubscher (IOGKF system).
1990 -Attended the European Gashuku in Holland conducted by Sensei Morio Higaonna.
1991 - Attended IOGKF World Tournament and Gashuku in Naha city Okinawa-Japan.
1993 - Graded to Yodan (4 th Dan) by Sensei Morio Higaonna.
1996 - Graded to Godan (5 th Dan) by Sensei Morio Higaonna.
1998 - Visit Sensei Hennie de vries in Namibia and started Kobudo in the Ryu Kyu System.
2002 - Joined the Shorei Goju Ryu Martial Arts Academy headed by Shihan Arnold de Beer.
2003 - Graded to Rokudan (6 th Dan) endorsed by Kanco Ko Uehara.
- Visited Okinawa to attend the International Karate Do and Kobudo Tournament in Naha City. Study Ryu Kyu Kobudo under Kancho Ko Uehara and Goju Ryu in the Jundokan with Kancho Tetsunosuke Yasuda.
2005 – Visit Sensei Hennie de Vries in Melbourne Australia to study Ryu Kobudo.
2006 – Head a South African team to attend the Sho Honbu-Jundokan Okinawa Goju Ryu Karate-Do International Gashuku in Hungary.
- Receive personal training in Ryu Kyu Kobudo by Shihan Hennie de Vries in George .Assist Shihan Hennie de Vries with Kobudo at the Good Will Martial Arts Festival and Gashuku in Cape Town. Directed the first all style Kobudo Tournament. Was personally responsible in writing the Kobudo Tournament Rules and directive as well as criteria for Kata judging.
2007 – Receive a Shodan grading in Traditional Ryukyu Kobudo by Yukio Kuniyoshi, endorsed by the International Chief Instructor Hiroshi Akamine.
2008 – Visit Okinawa with my wife Betsie. Practice at the Okinawa Goju Ryu Kyokai in Yonabaru with Kikugawa sensei and the Ryukyu Shinko Kai Honbu dojo at Tomigusuku with Akemine sensei.
2009 – visit Okinawa and graded to Rokudan at the OGKK Honbu dojo in Shuri. Graded to Nidan with sensei Penny van Heerden.
2010 – Sponsor sensei Hennie de Vries for a one month stay in South Africa to practice Ryukyu Kobudo.
2011 – Visit Okinawa. Graded to Sandan At the Ryukyu Kobudo Honbu dojo in Tomigusuku.
2013 – Visit Okinawa with my son Rocher in January for Ryukyu kobudo training at the Shimbukan Honbu dojo in Nesabu and also Goju Ryu training at the Kikugawa dojo in Yonabaru.
2014 – January, graded to Yondan in Ryukyu Kobudo by Hiroshi Akemine sensei.
2014 – September , Visit Shinbukan Honbu Dojo Okinawa for Ryukyu Kobudo training and Okinawa Martial Arts research.
---
At present I head a Goju Ryu Karate and Ryukyu Kobudo School in George, assisted by my wife Betsie (Godan 5th Dan) and my eldest son, Rocher (Yondan 4th Dan).
President of the Karate Association of the SWD from 1992 to 2002. Honorary life long President of the Karate Association SWD. (Provincial All Style body recognized by the Department of sport)
Diploma in Exercise Science (HFPA)
Other occupation: SA Telkom – 1967 to 2000
Position Held: Manager
Reason for leaving: Accepted early retirement package.
Other Qualifications:
Diploma in Telecommunications
Diploma in Personnel Management.